Taught in over 300+ schools
Teaching since 2005, 14+ Years Experience
Pioneers in Children's Yoga in Victoria
Incursions & Trainings
Yogafun's engaging and practical programs and training helps both teachers and students feel more confident, calm and energised for optimal learning in the classrooms. Here's how to get started, click on the following links:

Over 300 Early Learning Centres & Schools and Counting:
"My daughter has become so much more CONFIDENT & CALM, after joining the Yogafun program, I highly recommend it to every child!"
"My child LOVES the Yogafun program, even years later, she still says it was the BEST PART of kinder!"
"I highly recommend Yogafun's workshop because it helps to develop confidence in teaching children safely. It left me with tools to handle the behaviour positively."
"I feel I could go and engage children with the skills I have learnt, also great skills to help me connect with my own children."
"Incredibly fun, active and insightful! Packed with lots of tools, games and ideas to reate awesome classes!"
"The children were all paying attention. It was a wonderful way to learn to be more aware of their bodies and selves."
About Us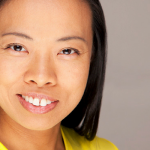 Connie Mah
Founder – Speaker – Trainer
Inspire, Engage, & Empower!
Connie Mah, is a pioneer of children's yoga in Victoria, Australia. She is one of the leading children's yoga facilitators, teacher trainers, mentors, and speakers in Australia. She has dedicated herself for fifteen years, to researching and applying techniques that pertain not just to children's physical development but to their emotional development as well. Her iconic Yogafun™ program has been taught to hundreds of schools in Victoria, teaching health and empowerment through evidence-based Yoga, Mindfulness and Social & Emotional Learning (SELs) techniques.
Want to become a Kids Yoga Teacher?
A fun, passionate and enthusiastic trainer & mentor, Connie will empower you to be a confident kids yoga teacher in no time. Her extensive knowledge about yoga and how to use it effectively as a self-esteem tool with children and young people is both informative and inspiring. Send us a message so we can discuss the best training program for you.
1300 Yogafun (1300 9642-386)